Round Diamond Blog : Wholesale Diamonds Dallas : Loose Diamonds : Diamond Specials : Dallas, Texas
09/21/2015
ROUND DIAMONDS IN DALLAS, TEXAS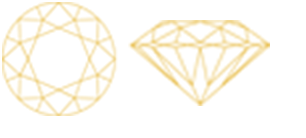 ---
The round diamond is the most popular diamond shape, representing approximately 75% of all diamonds sold. Due to the mechanics of its shape, the round diamond is generally superior to fancy diamond shapes at the proper reflection of light, maximizing potential brightness.
Virtually all round diamonds are brilliant-cut, meaning they have 58 facets (57 when there is no culet).
Round diamonds cost more on a per carat basis than fancy shapes for two reasons; the demand for round diamonds is very high, and the yield is relatively low. Because more of the rough stone is lost in the cutting of a round diamond, the cost of each carat retained is higher. A typical round diamond (for example; a 1.00 carat, F-color, VS2-clarity, Ex cut) may cost 25-35% more than a similar fancy shape.
The round diamond began to rise in popularity in 1919 with the publication of Marcel Tolkowsky's thesis "Diamond Design: A Study of the Reflection and Refraction of Light in Diamond". Tolkowsky's work described the ideal proportions of a round cut diamond for maximizing light return (or brilliance) and dispersion (or fire). The original Tolkowsky specifications (53% table, 59.3% depth, 34.50 crown angle, visible culet) have since been modified as the cut mechanics for round diamonds have perfected over time. These theoretical advancements, as well as advancements in technology (such as the use of lasers in diamond cutting), have been adopted by diamond manufacturers to produce the incredibly brilliant cuts we see today in well cut round diamonds.
The table below serves as a general guideline for evaluating the cut of a round diamond. GIA takes these and other factors into consideration when assigning a cut grade.
ROUND DIAMOND - CUT GUIDE
EXCELLENT
VERY GOOD
GOOD
FAIR
POOR
Table %
53 - 58

52 - 53

or

58 - 60

51

or

61 - 64

50

or

65 - 69

< 50

or

> 69

Depth %
59 - 62.3

58 - 58.9

or

62.4 - 63.5

57.5 - 57.9

or

63.6 - 64.1

56.5 - 57.4

or

64.2 - 65

< 56.5

or

> 65

Crown Angle
34 - 34.9

32.1 - 33.9

or

35 - 35.9

30.1 - 32

or

36 - 37.9

29 - 30

or

38 - 40.5

< 29

or

> 40.5

Pavilion Depth
42.8 - 43.2

42 - 42.7

or

43.3 - 43.9

41 - 41.9

or

44 - 45.5

39 - 40.9

or

45.6 - 48

< 39

or

> 48

Girdle

Thin

to

Sl. Thick

Very Thin

to

Sl. Thick

Very Thin

to

Thick

Very Thin

to

Very Thick

Ex. Thin

to

Ex. Thick

Culet
None
Very Small
Small
Medium
> Medium
L/W Ratio
1.00 - 1.01
1.02
> 1.02
Wholesale Loose Diamonds Dallas
Shira Diamonds Dallas is a diamond manufacturer and loose diamond importer in Dallas, Texas. At Shira Diamonds we have a vast selection of loose diamonds certified by GIA and EGL. We can help you save on your next loose diamond purchase with our wholesale diamond prices. When we manufacture our loose diamonds we skip the jewelry stores and diamond brokers in Dallas, Texas.
Arriving at Shira Diamonds in Dallas, Texas
When you arrive at our wholesale jewelry showroom we provide the private closed loose wholesale diamond purchasing experience to you the retail consumer. With our extensive loose diamond selection of round, princess cut, cushion, oval, radiant, pear, asscher cut, marquise, emerald, and trillion diamonds wholesale diamond prices, diamond studs and custom diamond rings designs, we deliver an unparalleled diamond and jewelry buying experience. We are located in Dallas, Texas between Frankford and Preston. Give us a call today to view our large selection of loose wholesale diamonds.
Why we offer the BEST LOOSE DIAMOND PRICES in Dallas!
As an online diamond wholesaler, we save on overhead costs incurred by traditional retailers, so called wholesalers, diamond brokers and we pass those savings on to you. With over twenty years experience in the wholesale diamond industry,Dallas Wholesale Diamonds - Wholesale Diamonds and Custom Diamond Rings provides the service expected from a fine jewelry retailer while offering competitive wholesale diamond pricing.
WHOLESALE DIAMONDS in DALLAS
At Shira Diamonds Dallas you will get true wholesale diamond prices on loose diamonds. We have been providing retail jewelry stores with diamonds since 1999 in Dallas, Texas. Don't pay retail when you can buy a diamond in Dallas, Texas from Shira Diamonds with wholesale diamond prices. We offer round diamonds, princess diamonds, cushion diamonds, oval diamonds, pear shaped diamonds, and marquise cut diamonds.
Wholesale Diamonds we Offer
Loose Round Diamonds Dallas
Loose Princess Diamonds Dallas
Loose Cushion Diamonds Dallas
Loose Radiant Diamonds Dallas
Loose Oval Diamonds Dallas
Loose Heart Diamonds Dallas
Loose Emerald Cut Diamonds Dallas
Loose Asscher Diamonds Dallas
Custom Diamond Rings Dallas
Shira Diamonds Dallas is proud to offer custom designer engagement rings to our Dallas, Texas customers. To create custom engagement rings, we can place our loose stones in designer settings, and our certified geologists can help shoppers navigate the many intricacies of selecting and purchasing a gorgeous, quality stone. Our impressive selection includes brilliant diamonds in many different cuts and shapes, including:
Whether you and your fiancée are shopping together and know just the type of diamond engagement ring you want or you are interested in creating a custom ring for a surprise proposal, we are confident that we can help you find the perfect engagement ring. You can enjoy browsing our inventory on your own, and our friendly and knowledgeable sales associates will always be ready to answer questions and provide guidance as you need. We maintain a relaxed and welcoming atmosphere at our showroom, and our goal is make sure your shopping experience is as enjoyable and stress-free as possible. For more information about our designer ring settings or loose diamonds, contact us today. We're happy to create custom engagement rings at our Dallas showroom, where we serve customers from throughout the greater Dallas Fort Worth area.